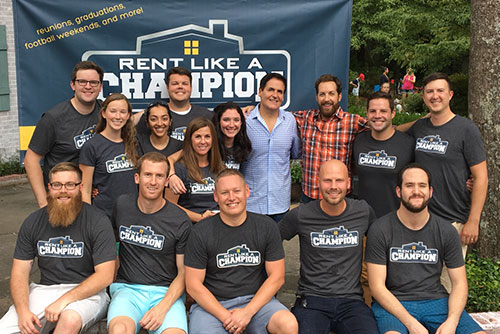 Rent Like A Champion started in 2006 as a student housing company – much different than what the company is today! The original founders (Drew, Derrick, and Jordan) listed a vacant apartment on Craigslist and eBay, offering it as a weekend rental for football games. The home was immediately scooped up by rabid Notre Dame fans, and just like that, RLAC had stumbled onto a new business model.
In 2010, Mike Doyle joined the company and began expanding the business to other college towns with major football programs. Early success proved that Rent Like A Champion was needed nationwide! Rent Like A Champion is now offering weekend rentals in more than 20 college towns around the country.
After graduating from 1871, Chicago's hub for digital startups, Mike and the team moved into Catapult Chicago, an incubator for startups that are scaling quickly. The Rent Like A Champion team is made up of rabid college football fans with a passion for providing a high-level of customer service to make sure that their customers have the best college football experience possible.
Learn more about renting a home, listing your home or working with Rent Like A Champion!
Our team
Mike Doyle

CEO

Mike began working with Rent Like A Champion in 2010 as a college sophomore and hasn't looked back since. Mike sets the vision for the company, helps clear obstacles from the path of his team, and oversees the general operations of the business. The de facto HR department, Mike is always looking for talented new people who are interested in joining the Rent Like A Champion team - if that sounds like you, reach out today! Mike attended Notre Dame, graduating in 2012.

Denise Wright

Community Manager

Denise Wright joined the Rent Like A Champion team in 2014, quickly becoming a vital member of the team. Denise came to us from non-profit world where she worked for Junior Achievement of Chicago, coordinating thousands of volunteers in Northern Indiana. Denise ensures that RLAC renters and homeowners alike have a fantastic experience, providing prompt and exceptional customer service and advice. Denise graduated from Purdue University with an engineering degree.

Dave Longwell

Marketing

Dave joined RLAC in 2015 and is our digital marketing expert. Dave is tasked with exposing college football fans around the country to our site and ensuring that our guests have the best possible experience. Prior to joining Rent Like A Champion, Dave was very active in the Chicago startup community, working for companies like SpotHero and Pathfinder Software as well as organizing the Lean Startup Challenge. Dave holds a BA from the University of Illinois.

Betty Kunisky

Customer Experience

Betty Kunisky joined the Rent Like A Champion team in March of 2015 and assists with a variety of renter and homeowner customer service needs. Betty also assists on several marketing and outreach projects. Prior to RLAC, Betty was working in Business Development for an international law firm. Betty graduated from Notre Dame in 2013.

Hank Greene

Content Strategist

Hank Greene joined the Rent Like A Champion team in February 2017, and handles the team's marketing/web communications, email campaigns, and social media strategy. Prior to joining RLAC, Hank worked at Goodman Theatre as an Audience Development Associate, and as a freelance writer specializing in web and marketing copy for clients in a wide variety of business spaces. He is a former member of the Disney College Program, and is a proud graduate of Indiana University.

Mike Hostetler

CIO

Mike Hostetler is an entrepreneur & technologist currently working to help technical teams grow and thrive. Mike formerly founded appendTo, a boutique consultancy born out of the jQuery project. He is an active OSS supporter and currently serves as editor-in-chief of ModernWeb.com. Mike is passionate about remote work, the future of work, leadership and helping others succeed.

Reuven Lerner

CTO

Reuven joined Rent Like A Champion in April 2010, back when the company served only Notre Dame. Today, Reuven manages the technical aspects of the site, including servers, databases, billing and payments, as well as the implementation of new features. Reuven has a degree in computer science from MIT, where he created one of the first 100 Web sites in the world, and a PhD from Northwestern. Reuven lives with his wife and three children in Modi'in, Israel.

Genadi Reznichenko

Software developer

Genadi joined RLAC in Fabruary 2012. He has more than a decade of software-development experience in technologies as diverse as C++ and Ruby. Genadi currently specializes in web applications using Ruby, JavaScript, MySQL, and PostgreSQL. He studied at the Technion before graduating from Polytechnic University in New York. Genadi previously worked at Columbia University, Citibank, and Amdocs.

Trevan Hetzel

Front-end developer

Trevan Hetzel is a front-end engineer working to make Rent Like A Champion as user friendly and performant as possible. Trevan formerly wrote lots of CSS & JavaScript at appendTo, where he led several front-end projects for clients such as Zumba, Celebrity Cruises and Microsoft. He is currently a member of the Flywheel team, where he works to change the way WordPress websites are hosted.

Jordan Curnes

Co-founder

A serial entrepreneur, Jordan lives in Chicago with his wife and two children. Jordan is also the Co-Founder of MicroTransponder, a medical device company treating tinnitus and stroke patients. He co-founded the Irish Angels and currently serves on the board. Jordan holds a BA from Notre Dame and an MBA from Duke.

Drew Mitchell

Co-founder

One of the original founders of Rent Like A Champion, Drew Mitchell started the company while in graduate school. The company's real estate expert, Drew works in real estate development in the Northern Indiana and Chicagoland areas. Drew has a BBA and MBA from the University of Notre Dame.

Derrick Shenk

Co-founder

Derrick is the President and Founder of Mobile Generation, the Chicago area's fastest growing chain of Verizon Premium Retail stores. Prior to Mobile Generation, Derrick worked at Accenture for 7 years. An avid boater, Derrick lives in Chicago with his wife. Derrick holds a BA from the University of Notre Dame.