COVID-19 Update: We are still accepting new bookings and home listings for all upcoming events. Rest assured that if your event is canceled, you can carry over your reservation to any future event. Read more about RLAC's COVID-19 policy

Stay Close To The Action
Reserve a private home rental near your game or event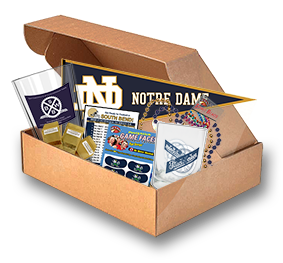 Tailgate from home
Are you a Notre Dame fan looking to get the most out of game days this season? However this season ends up being played, our Tailgate From Home Box will is an all-in-one South Bend football getaway, delivered right to your front door!
Click here to learn more

Not a Notre Dame fan? We're working on bringing our boxes to more fanbases nationwide - stay tuned!
Football Weekends
The perfect home base for your football tradition. Stay under one roof and walk to the stadium.
Golf Tournaments
Whether you are a professional golfer looking for a home on the course or a fan planning your golf vacation, we have you covered.
Racing Events
Rent a home near the track and make sure that you take advantage of all that race weekend has to offer!
How it works
Select your event, then browse through available homes.
Securely pay for your rental using any major credit card.
Receive confirmation via email with details for your stay. The home will be freshly cleaned and have the same necessities as a hotel room (linens, towels, toiletries, etc.).
Homeowner? List your home with us!