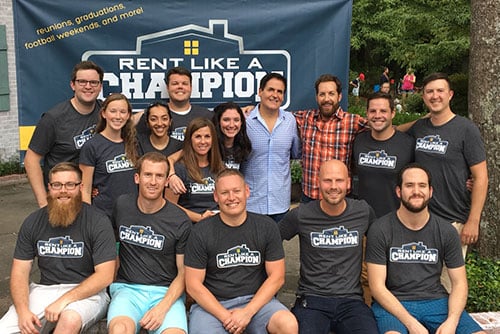 Rent Like A Champion started in 2006 as a student housing company – much different than what the company is today! The original founders (Drew, Derrick, and Jordan) listed a vacant apartment on Craigslist and eBay, offering it as a weekend rental for football games. The home was immediately scooped up by rabid Notre Dame fans, and just like that, RLAC had stumbled onto a new business model.
In 2010, Mike Doyle joined the company and began expanding the business to other college towns with major football programs. Early success proved that Rent Like A Champion was needed nationwide! Rent Like A Champion is now offering weekend rentals in more than 20 college towns around the country.
After graduating from 1871, Chicago's hub for digital startups, Mike and the team moved into Catapult Chicago, an incubator for startups that are scaling quickly. The Rent Like A Champion team is made up of rabid college football fans with a passion for providing a high-level of customer service to make sure that their customers have the best college football experience possible.
Learn more about renting a home, listing your home or working with Rent Like A Champion!
Our team
Dave Longwell

CEO

Dave joined the Rent Like A Champion team in 2015 to lead marketing and communications for the growing business. He's worn many hats since then, and is proud to have watched the team and company grow! Prior to Rent Like A Champion, Dave worked as a digital marketer and was active in the Chicago startup community. In his free time, Dave enjoys fixing up his house and seeing live music. He's currently taking Spanish lessons and swears he will start learning guitar again one of these days.

Hank Greene

Director of Marketing

Hank Greene is Rent Like A Champion's Director of Marketing, so he's in charge of everything from those emails you get, to those ads you see… to figuring out which of those emails and ads you liked the best! When he's not helping folks find their perfect game day getaways, Hank writes plays, cooks a mean stuffed chicken parmesan, and hangs out with his dog, CJ.

Denise Wright

Hospitality Coordinator

Denise has been part of the Rent Like A Champion team since 2014. Prior to joining Rent Like A Champion, Denise worked in the non-profit sector. She has enjoyed watching the team succeed and break into new markets. During her free time, she enjoys hiking the Dunes, boating, and spending time with her family.

Betty Kunisky

Hospitality Coordinator

Betty is proud to have been a part of the Rent Like A Champion team since 2015. Her time at RLAC has taught her many things, specifically how much she enjoys working with people! Betty graduated from Notre Dame and still enjoys tailgating in South Bend whenever she can. In her free time, Betty enjoys being outside and sipping a craft beer with her husband and dog.

Sarah Maslayak

Community Manager

Sarah was raised in a Philadelphia suburb (die-hard Eagles fan!) and graduated from the College of William & Mary with a degree in Economics and International Relations. She worked in banking for five years, but has spent most of her career in hospitality and restaurants, with a focus on wine sales and exemplary customer service. In her free time, Sarah enjoys politics, gardening, and baking.
Tech team
Mike Hostetler

CIO

Reuven Lerner

CTO

Genadi Reznichenko

Software developer

Trevan Hetzel

Software developer
Board members
Derrick Shenk

Co-Founder and Managing Partner

Drew Mitchell

Co-founder

Mike Doyle

Former CEO and Board Member